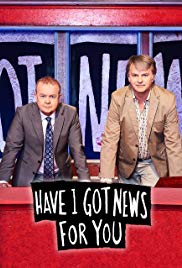 Have I Got News For You by Dr Eugene Chang at Cheltenham
'The Croquet Gazette' will feature in this week's episode of 'Have I Got News For You', to be broadcast on BBC1 at 9pm on Friday 1st November 2019. The programme will then be available on the BBC iPlayer on demand service for 30 days.
Unfortunately, due to the nature of the recording, the publication might not make it into the final edit of the programme. This is due to the original record lasting approximately two hours but the final cut lasting just under thirty minutes. That said, it is likely the publication will be featured in the main show, and at the very least in the extended show, 'Have I Got A Bit More News For You', which is broadcast late on Monday evening.